Continuous Monitoring with
Automated Detection and Alerting of Methane Gas Leaks
In just seconds, receive notifications of leaks with image and video for fast off-site verification and response.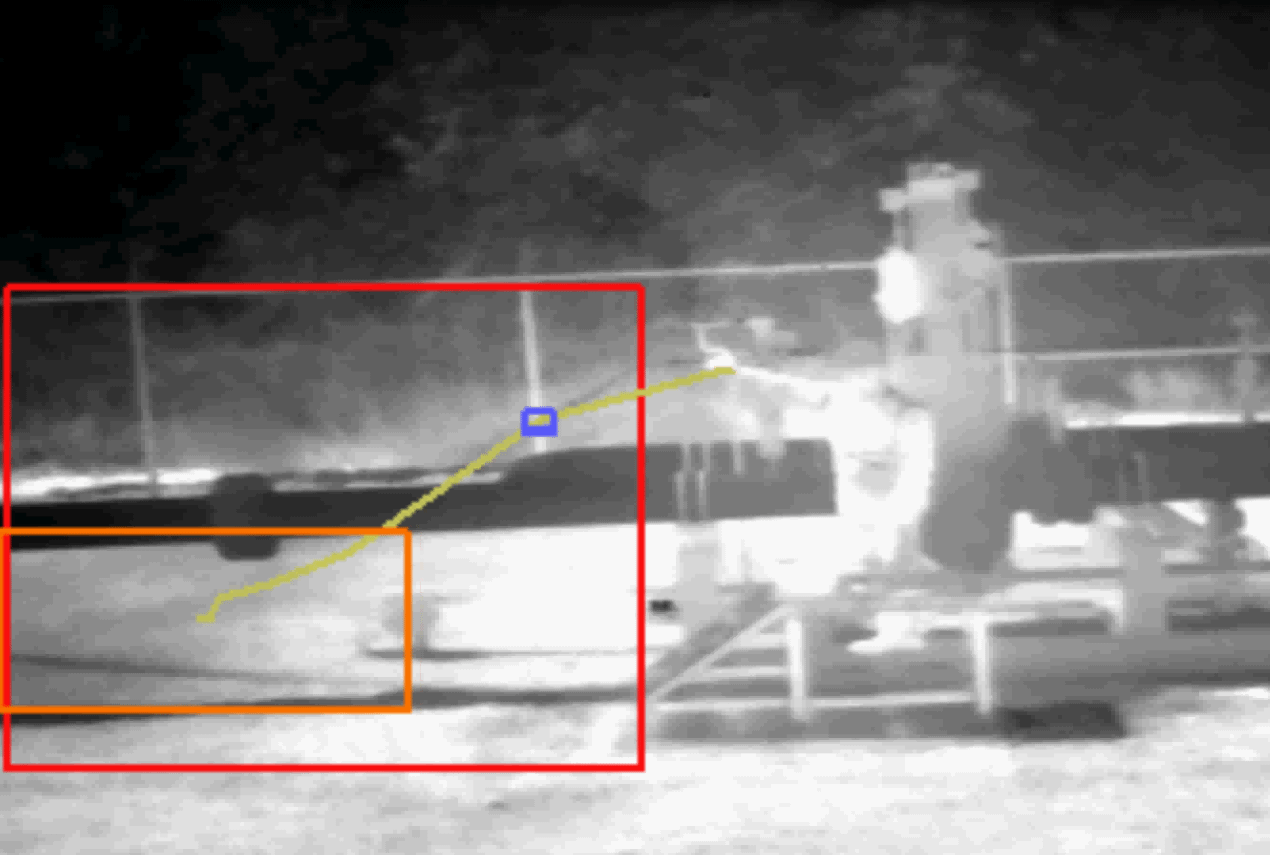 Gases Detected: METHANE, SULFUR DIOXIDE, NITROUS OXIDE
For detecting unplanned gas releases at various stages of the natural gas supply chain from production, processing to distribution, covering well pads, compressor stations, processing plants, tank farms, storage facilities, natural gas power plants, and renewable energy production facilities
Emission Sources: valves, flanges, connectors, pressure relief devices
Methane gas leaks can lead to adverse environmental impacts, product loss, facility shutdowns, HSE compliance issues, carbon fees, regulatory fines, and reputation damage.
IntelliView's automated thermal/visual based detection and alerting system cost-effectively empowers the natural gas industry to meet methane emission mitigation targets and GHG challenges, improve asset safety and enhance business operations. The fixed, analytic OGI camera provides:
Autonomous, continuous monitoring (day and night)

Automated leak detection (indoor and outdoor)

Real-time leak visualization and on-site qualification

Instant alerting with leak photo/video for verification

High detection accuracy and low false alerts rate

Web access to live/recorded video, alerts, and settings (remote inspection reduces site visits)

In-house solution optimization

Compatibility with existing LDAR systems (e.g. SCADA)

Hardware and software scalability

Reliable operation even in extreme weather
Optical Gas Imaging (OGI) is considered as "best system for emission reduction" by the US Environmental Protection Agency (EPA), and is traditionally used as a mobile device for periodic inspections to compliment existing sensors, such as gas sniffers, computational pipeline monitoring (CPM), and laser detectors.  Introduced early 2020, the Dual Camera Analytic Module – Methane (DCAM™-M) is IntelliView's first intelligent OGI system designed for continuous monitoring and autonomous detection and alerting of new methane gas releases. It is also the first fixed-format machine vision system to utilize the GF77a Gas Find Infrared sensor, FLIR's first low-cost, uncooled thermal technology for visualizing methane, sulfur dioxide and nitrous oxide gases.
Also referred to as a gas cloud imaging (GCI) technology within the wider gas sensor market, the DCAM-M is driven by built-in patented and proprietary machine learning image processing software and artificial intelligence (AI). The gas detector automatically checks for leaks and generates alerts with image and video within seconds of detection. It is also integrated with a full HD color camera for visual verification of thermal images and general surveillance use.
In-house solution optimization using a series of sophisticated algorithms, environmental filters and detection setting options ensure high detection accuracy and industry-leading low false alert performance.
IntelliView's industrial internet of things network architecture provides streamlined data communication, which allows multiple DCAM-M units to be accessed and managed wirelessly via the IntelliView System Console web interface.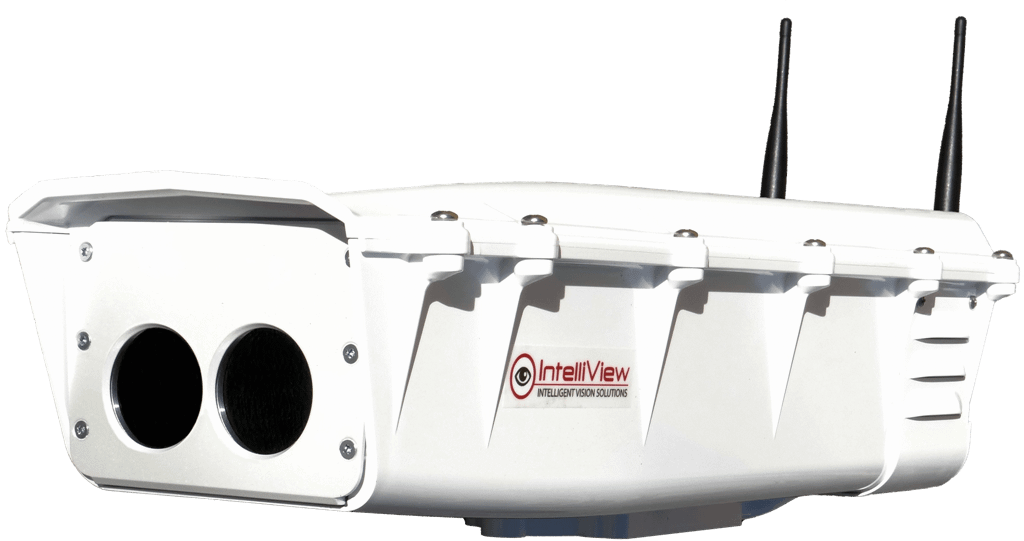 IntelliView DCAM™
Dual Camera Analytic Module
Dual Camera Analytic Module
Launched in Q1 of 2016!
The DCAM™ is a dual sensor smart camera (thermal and color) with built-in leak analytics and auto climate control.  Notifications with image/video evidence are sent wirelessly, reducing installation costs and hardware footprint.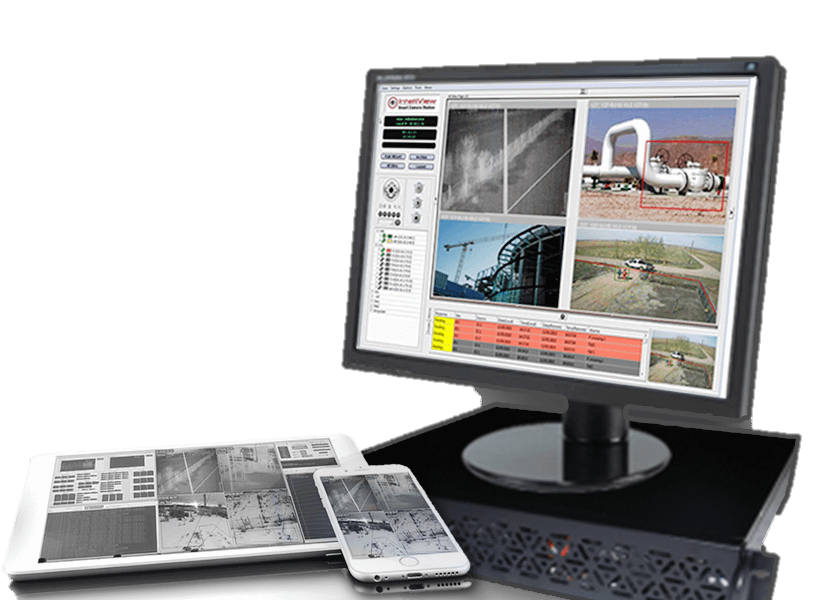 IntelliView System Console (SC)
Video Management System
IntelliView SC
Powerful. Versatile. Intuitive. Scalable.
Provides web access to hundreds of remote camera systems, live feeds, the alerts register, analytic rule settings, system and user settings, and archive video playback.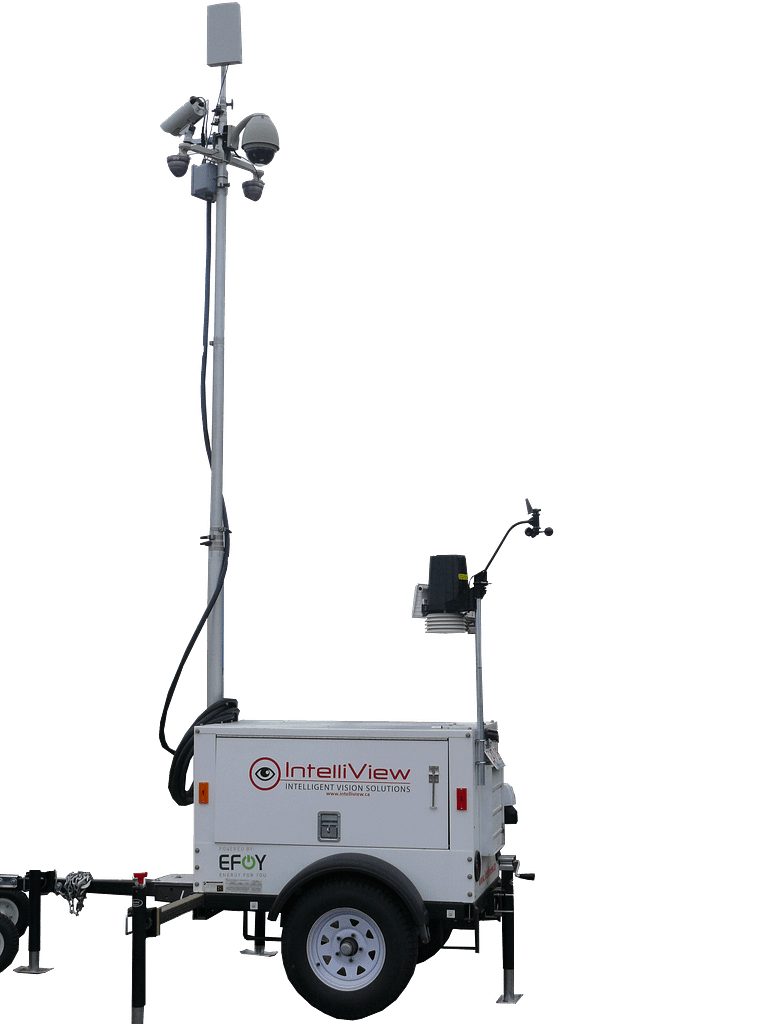 IntelliView Surveillance Trailer
Self-Contained, Remote Site Ready, Green Energy Option
IntelliView Surveillance Trailer
Self contained, green powered, weatherproof.
Features: 4+ channel capacity, HVR, EFOY and/or solar power, communications hardware and optional accessories.
Platforms: Fixed and Trailer
A fixed installation is recommended for permanent and fully serviced facilities. The IntelliView Trailer is designed for remote and semi/unmanned sites where power and network are typically lacking or inadequate.
See Industrial Remote Monitoring for more, and IntelliView System Architecture for our products.
Live Feed Viewing (up to 8 screens per window)
Analytic Rules Management (setup, scheduling, automation, coupling, and more)
Multiple Analytic Regions Per Camera
Alerts List with Photo/Video
System Events List
Notification Email Forwarding (with photo/video)
PTZ Camera Settings and Controls (on-screen)
Video Recording and Playback
Media Exporting (USB, DVD or CD in H.264, AVI or JPEG format)
Remote Access via the System Console (SC) web interface
Additional Functions:
Background Learning
Advanced Environmental Filters
Image Stabilization (proprietary technology)
Object Time Counting
Object Size Setting
Object Speed Setting
Object Temperature Setting
Automatic Enabling/Disabling of Analytic Rules
Camera Health Check
Camera Tampering Reporting
Digital Input/Output Device Control
Advanced options: analytic overlay setting, archived data management, video summary, on-screen display (OSD) customization, and more.
Visit our Video Analytics page for more.
"Our decision to become an IntelliView investor reflects our confidence in the company's ability to provide a valuable offering to the pipeline industry. Their real-time fluid leak detection system for above ground facilities provides an important layer of detection, especially in remote or unmanned facilities. Enbridge's partnership with IntelliView underscores our commitment to safety and to support solutions beneficial to the entire pipeline industry, increasing environmental integrity and worker safety."