Continuous Methane Gas Emissions Monitoring,
Automated Real-Time Detection and Alerting with Image/Video Evidence
Visually verify new methane leaks without travelling to the site for fast decision making and action. Inspect assets remotely.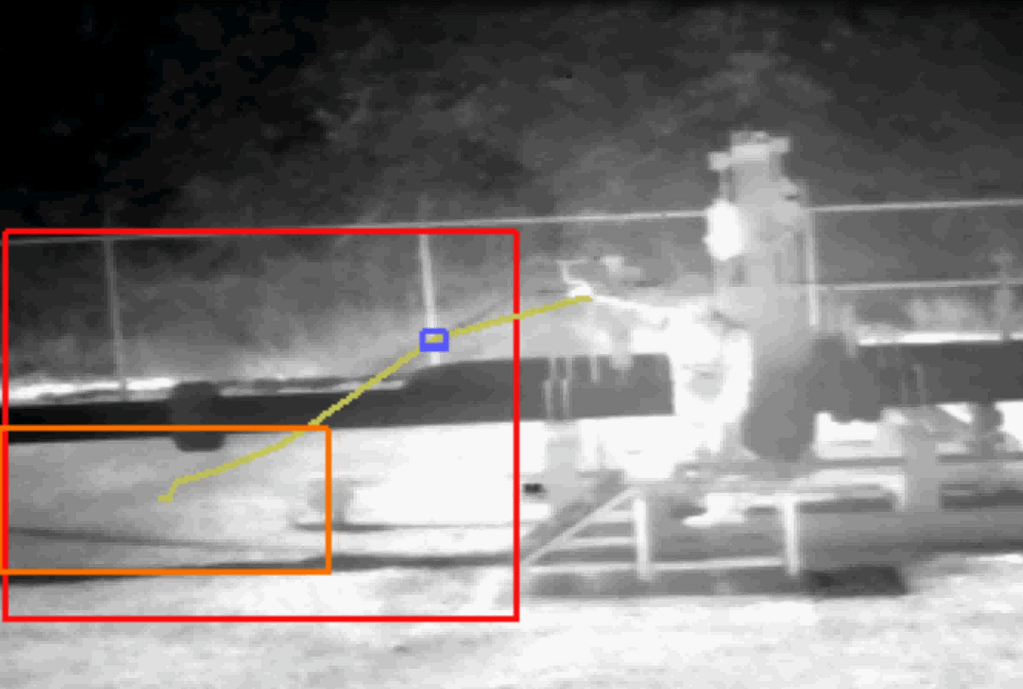 Failure to detect methane gas leaks early can lead to adverse environmental impacts, product loss, shutdowns, HSE compliance issues, carbon fees, regulatory fines, and reputation damage.
IntelliView's intelligent optical gas imaging (OGI) system, called the Dual Camera Analytic Module – Methane (DCAM-M), cost-effectively empowers the natural gas industry to meet methane reduction targets and GHG challenges, enhance asset and worker safety and improve business efficiency.
Introduced in 2020, the DCAM-M is the first fixed format, continuous, automated methane detection and alerting system to utilize FLIR System's new uncooled (LWIR) thermal sensor, the GF77a Gas Find IR, a lower-cost alternative to "cooled OGI" and gas cloud imagers (GCI) for visualizing methane, sulfur dioxide and nitrous oxide.

System Advantages:
24/7 operatorless monitoring (saving on hours and hours of manpower costs)

Real-time leak analysis and validation at the edge filters false positives before reporting

Alerts include leak source picture/video for off-site confirmation

Low false alarms from environmental factors (glare, rain, fog, snow) and camera shake

Web access (live feeds, alerts, recordings) enables remote inspections, reduces site visits

In-house solution optimization for fast turnaround

Scalable hardware to accommodate additional DCAM-Ms and third-party sensors

Scalable software (implement leak detection with intrusion monitoring)

Compatibility with existing LDAR systems (e.g. SCADA)

Ruggedized enclosure for extreme or hazardous conditions

Designed for
Remote/Unmanned


Oil

and Gas Facilities:

pump stations
pig trap stations
oil transmission / gathering lines
meter stations
oil and chemical refineries
water treatment plants
terminals / storage / tank farms
and more
SEE HOW THE SYSTEM WORKS
(Methane Release Test at a Global Gas Customer Site)
WATCH VIRTUAL TECHNOLOGY SHOWCASE 
Handheld OGI cameras are considered "best system for emission reduction" by the US Environmental Protection Agency (EPA), and traditionally used for periodic inspections to compliment existing sensors, such as gas sniffers, computational pipeline monitoring (CPM), and laser detectors.  With the DCAM-M, IntelliView brings continuous methane monitoring to high risk oil and gas sites. The AI-driven IR imaging system is also integrated with a HD color camera for verification of thermal images and general remote surveillance.
IntelliView's IIoT network architecture delivers streamlined data communication and management of multi-site devices via the IntelliView System Console web interface.
LEARN MORE:
IntelliView Analytic Software
IntelliView Intelligent Vision System
INTELLIVIEW TECHNOLOGY IN ACTION
"FLIR is pleased to be partnered with IntelliView to launch this revolutionary new product, the DCAM-M, which utilizes the FLIR GF77a as its core sensor. By providing the ability to immediately alarm on dangerous large methane leaks we will fulfill our mission to save lives and livelihoods."