Intelligent. Automated. Reliable. Scalable.
A powerful, cloud-friendly, edge-based AI-driven visual detection/alerting system for standalone or multi-site (enterprise) installations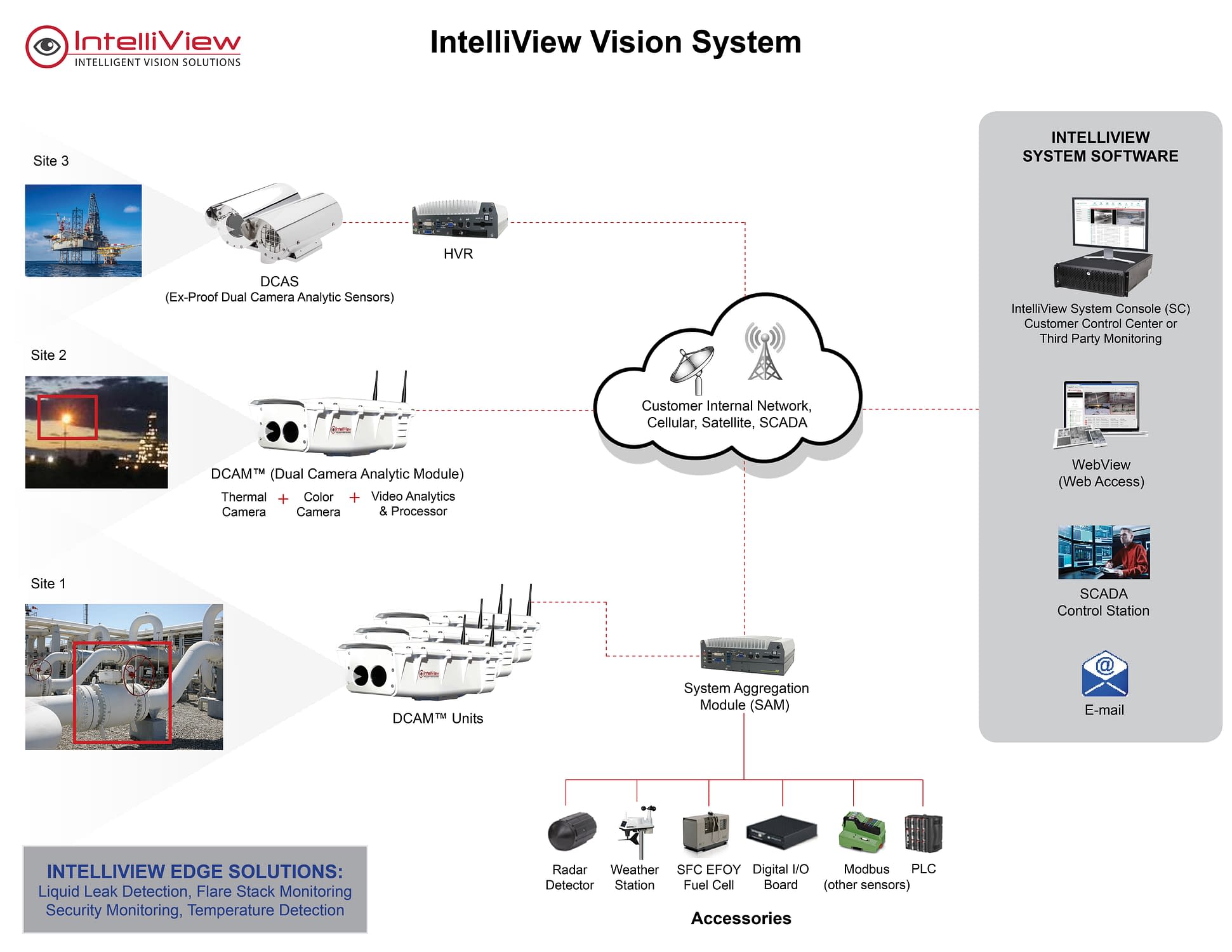 The IntelliView Vision System (IVS) is an adaptable, end-to end detection and alerting platform utilizing a combination of thermal, visual and analytic technologies deployed in an IIoT infrastructure. It features IntelliView's latest product, the Dual Camera Analytic Module (DCAM™).  The DCAM's compact, wide-weather enclosure houses an advanced FLIR thermal sensor, a full HD color camera, and a powerful video/data processing engine that operates in real-time.
By combining our solid expertise in video analytics with the latest sensing technologies, we have the ability to quickly deliver a hardware/software solution that efficiently and cost-effectively addresses the unique and complex needs of your industrial environment.
Automated Real-Time Detection & Alerting – eliminates operator dependence and cost

Event Image and Video Capture – shortens verification to response time

Unmanned Operation – reduces site visits, enhances inspector safety

Distributed Processing (Onsite/Offsite) – adapts to site requirements/constraints

Remote Monitoring  and Control– secure web access, anytime/anywhere

Hardware Scalability – connects to 1-100s of DCAMs and sites

Software Scalability – implements multiple licences per system

Coverage Expansion – integrates with third-party devices (e.g. weather station)

Existing Network Integration – compatible with SCADA , LDAR systems
Advanced video analytics + artificial intelligence (AI)

Event notification with visual confirmation (image/video)

Multiple detection settings/filters enhance detection accuracy and reduce false positives

Customizable/optimizable solutions by in-house engineering team

IIOT architecture improves system adaptability and connectivity

Wireless and Ethernet communication options, lower installation cost

Low bandwidth setting for remote applications

Wide weather and hazardous environment enclosures

Green technology, green power options (e.g. solar, fuel cell)
Industrial Internet of Things (IIoT) System Architecture
The IntelliView Vision System or IVS is deployed in an IIoT architecture, which allows distribution of processing power at different locations of a client's network (e.g. edge computing, cloud computing). A major advantage of this infrastructure type is the ability to work with a site's resource availability and constraints, such as limited power or bandwidth, to maintain optimal video processing and critical data communication conditions.  Its scalability in hardware and software offers greater coverage and compatibility with existing client networks, such as SCADA.
The Function of the Main Components of the IVS
1. DCAM™ and Other Sensors Onsite
The DCAM is installed onsite to monitor a scene 24/7. Coverage can be expanded with additional DCAMs, other imaging sensors (e.g. PTZ cameras) and non-imaging sensors (e.g. weather station, speed radar, siren, wildlife deterrents).  Data and control of multiple DCAMs and peripherals per site are managed with the Site Aggregation Module (SAM).
2. Built-in Image Processing Engine
Live thermal and color video feeds from the DCAM are processed in real time by the onboard analytic software technologies. The system memorizes the background and looks for changes in the scene. Any change is evaluated automatically. When an event (e.g. leak or human intrusion) is qualified based on set detection criteria, it is reported within seconds to the System Console (SC), which may be located within the premises or offsite (e.g. monitoring/control station). An event video is sent along with the notification. Alerts can also be configured to be delivered to a number of email addresses.
3. System Console at the Monitoring/Control Station
The new event notification and video are received in the SC and reviewed by monitoring personnel to visually verify the event and take appropriate action. The SC also has the ability to further evaluate an event using supervised machine learning, employing deep neural nets akin to the systems used in self-driving cars. The incorporation of adaptive artificial intelligence trained on pre-classified data adds a layer of improved recognition and processing of detected events to the analytics suite. Analytic rules can also be configured rules to activate/enable or deactivate/disable devices automatically.
Liquid Leak Detection – Petrochemical Industry (Oil, Brine, Water, Acid, other Chemicals) at above-ground piping facilities, tank farms
Liquid Leak Detection – Mining Industry (Cyanide, Acids, Processed Water, other Chemicals)
Industrial Site, Facility and Plant Security (Oil, Gas, Chemical, Utility, Power/Sub Stations, Mining, Construction)
Process Control (Flare Stack Flame Failure and Re-ignition, Temperature Change)
Environmental Protection
Weather Observation
Wildlife Watch
Access Control
DIO Device Activation and Control
IntelliView DCAM™ (Dual Camera Analytic Module)
(Launched in Q1 of 2016)
IntelliView DCAM™
Launched in Q1 of 2016
The DCAM™ is a dual sensor smart camera (thermal and color) with built-in leak analytics and auto climate control.  Alarm notifications with image/video evidence are sent wirelessly, reducing installation costs and hardware footprint.
Site System Controller
SSC
Site System Controller
A powerful, scalable surveillance system management tool with streamlined communications.
Features: onboard storage, centralized multi-DCAM/device controls, wireless/ethernet connectivity, low bandwidth usage, secured multi-user access.
IntelliView Surveillance Trailer
Self-Contained, Remote Site Ready, Green Power Options
IntelliView Surveillance Trailer
Self contained, green powered, weatherproof.
Features: 4+ channel capacity, HVR, EFOY and/or solar power, communications hardware and optional accessories.
IntelliView SC
IntelliView System Console
IntelliView System Console
Powerful. Versatile. Intuitive. Scalable.
Features: 1000+ channel capacity, up to 16 feeds per screen, alarms and events list, alarm rule management, DCAM & PTZ camera controls via the SAM, video playback, and HVR settings, supervised machine learning artificial intelligence (optional).
WebView-SC/SAM
Web Access
WebView-SC/SAM
Anytime, anywhere online access via desktop computers, laptops, and selected mobile devices.
Features: live video feeds (from 1000+ cameras), alarm and event lists, alarm and archive video playback, analytic rule settings, camera management, and PTZ camera controls.