Automated, Real-Time Detection of
Liquid Leaks, Wet Gas Leaks, and Steam Emissions
Receive notification with image and video of small product releases in just seconds (not hours, not days), enabling immediate off-site confirmation and decision making.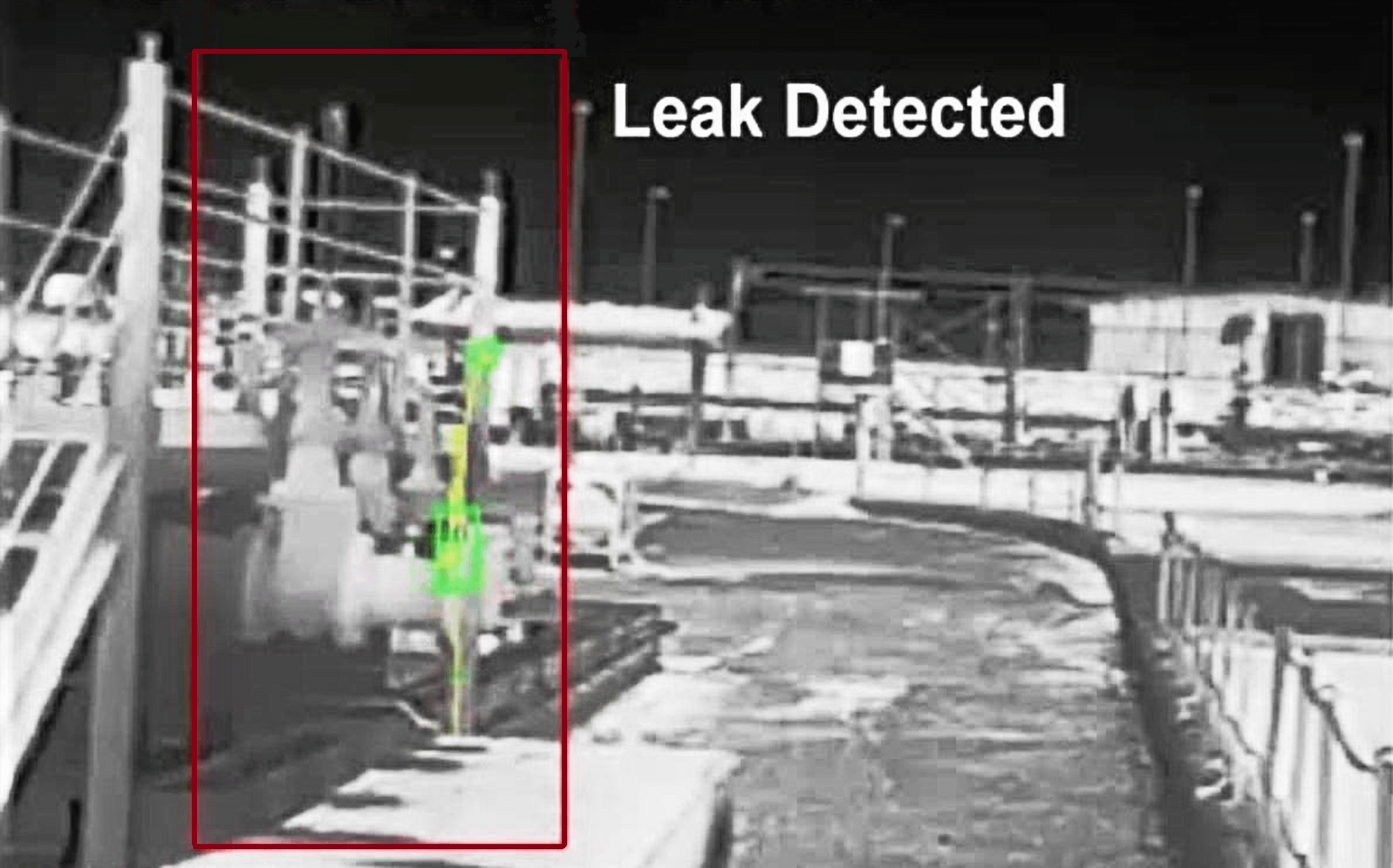 Prevent or mitigate environmental damage, financial losses, down time, and HSE compliance issues with IntelliView's Automated Liquid Leak Detection System for above-ground facilities.
Utilizing advanced thermal imaging and a combination of patented and proprietary analytic software technologies, the solution detects, qualifies and reports leaks in real-time to enhance response times without site visits, existing LDAR methods, pipeline safety and infrastructure reliability.
Designed for remote/unmanned oil and gas assets, including pump stations, pig trap stations, oil transmission and gathering lines, meter stations, oil and chemical refineries, water treatment plants, terminals, and tank farms.
System Advantages:
Continuous, automated operation without requiring a light source

On-site analysis and qualification (minimizes false positives, alerting delay and data charges)

Alerts include photo/video for off-site verification (saving on inspection costs)

Customizable detection settings and alerting options

High detection accuracy, low false alarms from environmental factors (glare, rain, fog, snow)

Secure web access to live feeds, video, alerts, and settings (reducing site visits)

Hardware scalability (single site to multiple sites)

Software scalability (e.g. leak with intrusion monitoring)

Third-party integration (SCADA, other sensors)

Ruggedized enclosure for extreme or hazardous conditions
FLUIDS DETECTED:
Oil and petroleum products (gasoline. diesel, crude oil, fuel oil, bitumen, kerosene), brine, water, waste water, diluent, cyanide, acids, chemicals, and other liquids
WET HYDROCARBONS DETECTED:
Propane, Butane, Ethane, Ethylene, Anhydrous Ammonia, other Natural Gas Liquids (NGL), and Liquid Natural Gas (LNGs) products
WATCH SYSTEM DEMO
(Diesel Leak Test in Heavy Rain)
The IntelliView Dual Camera Analytic Module (DCAM™) is our latest generation Liquid Leak Detection system.  Ruggedized and compact in design, the DCAM features a thermal sensor, a color camera and advanced artificial intelligence for real-time processing of live video and data feeds.
Remotely monitor a single site or multiple distributed assets using the IntelliView System Console, from the control room or the IntelliView web user interface.
LEARN MORE:
IntelliView Analytic Software
IntelliView Intelligent Vision System
INTELLIVIEW TECHNOLOGY IN ACTION
TC Energy (TransCanada) tests the IntelliView liquid leak detection system.
"Our decision to become an IntelliView investor reflects our confidence in the company's ability to provide a valuable offering to the pipeline industry. Their real-time fluid leak detection system for above ground facilities provides an important layer of detection, especially in remote or unmanned facilities. Enbridge's partnership with IntelliView underscores our commitment to safety and to support solutions beneficial to the entire pipeline industry, increasing environmental integrity and worker safety."